The Marketplace
A new section has been added to the catalogue called "Marketplace". In the marketplace it is safer and easier to trade your Habbo furni with other Habbo users. All you have to do if you want to sell an item is:
Go into your inventory
Select the item you wish to sell
Press the "Sell in Marketplace" icon (You have to pay 1 credit, this allows you to sell 5 items)
You then get to select how many credits you want to sell the item for.
Your item will now be added to the marketplace for anyone to buy!
To buy an item from the marketplace is very easy, all you have to do is search in the marketplace category in the catalogue, the item you are looking for and then select buy.
You MUST have a trading pass to be able to use this feature.
Now when looking at an item in the marketplace it shows an average price, this price is the average price of the item sold by other people on the marketplace. You can now also sort the items by lowest to highest price and the opposite.
Pet Updates!
Pets returned to the hotel, with them have brought us some new pets. The new pets are:
Dragons
Dogs

Cats
Chicks
Turtles
Frogs
Spiders
Rhinos
Lions
Bears
Crocodiles
Terriers
Pigs

Pet Training!
With the return of pets we got some good new features, pet training. This lets you train your pet to do some tricks. It's really simple to do no typing is needed! All you have to do is put your pet in a room (you can now put your pets in other peoples rooms) and then press "Train", another dialogue box will appear with all the tricks your pet can do from Sit to play dead! Once your pet masters one trick then another one will be released.
Pet Scratching!
Now you and anyone can scratch your pet, this acts like respect for pets! You get 3 scratches to give out a day. Once your pet gets so many scratches it levels up. You can also gain badges for your pet being scratched.
News and Mini-Mail in the client!
You can now view the newest news from within the client with one simple command. Once in a room if you type ":news" then the latest news will pop up on the side for you to read, very simple!
It's also easy to check your Habbo mini-mails from within the hotel. All you have to do is open your console and view your friends list, the very first option is to create new mail if you select that then you can send all your friends messages, and of course view your own!
Gift Wrapping
Habbo have added a new feature that lets us gift wrap our presents, from a glass box to fancy designs! You still get the option whether to keep the old wrapping our pay one credit to pay for the new wrapping!
With this we have some new achievements with badges, you will get rewarded for the more presents you send.

Facebook Integration
Habbo joined with Facebook so you can now play and connect straight with your real life friends through the Facebook application. When you link your account with your Facebook account, your friends name will appear under their Habbo name so you can tell who is your Facebook friend and your Habbo friend.
This can now also be done with
Google Mail
Yahoo
Twitter
Windows Live
MySpace
Walkthrough!
Habbo have now released a new feature which allows you to walk through other Habbos who may be blocking your way. Room owners now have the option wether to turn this on or off. If it's own then you can click any square in the room and if someone is standing in the way you walk through them (This doesn't work if you click the square they are standing on).
Friend Requests!
Now when someone friend requests you, a pop-up bubble will appear it will be above the person who friend requested you head! You can simply accept or reject it there and then or move the bubble out of the way to do at a later time.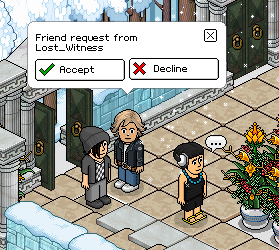 Wall Updates!
By being VIP, you can now remove the walls from your Habbo room, so instead of looking round for a mood light all the time, save your time by just using the no walls feature! You can turn this feature on or off by going to your room, clicking the room icon, click room settings and tick the box and your room walls will turn black! This feature will only work if you're a VIP member.
Another new feature for VIP's, you can also alter the thickness of your walls. Now you can create your ideal room. You can find this feature in Room Settings and clicking one of the available options.
Room Settings Layout!
Habbo has been busy creating the new layout for the Room Settings and have create a new rights system to go with it too! The layout has been set out into 4 different sections. Basic - Access - Rights - VIP.
Basic
- This involves the basic things you can do to your room, including the room name and description along with the category and if you want walkthrough on or off!
Access
- You can choose your room status, Open, doorbells or padlocked!
Rights
- You can now add right to people who are not in your room as long as they are on your friends list!
VIP
- This is where VIP's edit their settings including thickness settings and wall visibility.
Room Info Update!
This section has been made smaller and easier to manage. You can like a room on this pop-up on Facebook, or check out who the owner is!
Advanced Room Search!
Habbo have improved the way we search for rooms now on Habbo. You can now specify whether you want to search for a Habbo or a Tag. To do so use the following codes:
owner:

AND/OR

tag:


So if you wanted to search for a Habbo Beach, you would search: tag:beach. And if you wanted to look for an owners room you would use: Owner:. You can also look for a specific room created by a specific owner. You would use: owner: tag:

You will also notice that the order in which the results for inactive (empty) rooms are sorted have changed to favour those that have the highest ratings.


Finding your friends easier!

When you enter a room, if your friend is in there too a green bubble with their name will pop above their name. This happens when they enter a room you are in too.

Friends Stream!


The new friends stream allows you to keep up-to-date with everything going on with your friends in Habbo. Turning this feature on allows you to see what rooms your friends have visited and liked, what friends your friends have made, what achievements they've earned and if they have changed their motto and what rooms they've recently decorated!

To turn on this feature just click the blue lightening bolt on the bottom right hand corner of the client! You can only view your friends activities, and your friends can view your activities. An image of this is on the left hand side! (Click image to enlarge)
New Items and Best Sellers!


Two new categories have been added to the catalogue which h ave been configured to automatically update with newest additions and the most popular items of furniture on Habbo!
Quests have returned!
Quests have returned with a lick of paint and it's now been made easier to view your quests and what you have to do to get to the next stage. A pop up shows you what your next instruction is! There are currently quests to complete which involve you to create rooms and play games! Click
HERE
to view an image of the new layout!
Achievements!
The achievements tab has been updated and now shows your progress of how many badges you have received and how many you have to go! All badges have been split off into appropriate sections and are now easier to find than ever! Click
HERE
to view an image of the new layout!