BUBBLES! Buuubbbleessssbuubblblessss! MY BUBBLES.
What is this wet wassa furni, that is making the staff talk like Habbo babies?
Well I think we should find out!


Log in to the Hotel to see the fish tank, a new chair and five different colored rugs. You'll be a fish out of water if you don't!… Somebody pinch me
One word of advice from Puffin… "If your pet Cat gets anywhere near your Aquarium, it won't end pretty". You have been warned!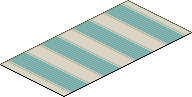 Enjoy habbo user's! Just remember to keep the cat away!
Powered by WPeMatico