Featured Wiki article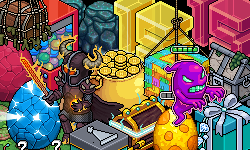 The new Picnic Basket furni is out, allowing you to get your pixel hands on some new delights including some very cosy outfits! These are the latest in a looong history of crackable furni - check out how many there have been since they first appeared ten years ago!

Current Habbo Campaign
Autumn Fashion Shoot

It's time to cosy up as September is the month of the Autumn Fashion Shoot on Habbo! Be sure to check out the new rares, the new crackables and the re-release of old room bundles!