Featured Wiki article
Bolt Of Zeus

Bolt of Zeus was given out in February 2010 to promote the movie 'Percy Jackson, Lightning thief.' It was only given out on the British Hotel and before the merge was only available in a single hotel.
The furniture is animated with the ability to have a plain rock or a lightning bolt appearing from it. Due to the merge, the price has fluctuated due to the rarity and size of the item.

Current Habbo Campaign
Valentines 2023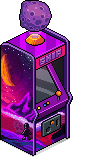 It's the month of romance and Habbo have a brand new campaign to help us celebrate!
This month, we're being treated to one pice of furni, five new rares, a new bunch of collectibles, a new item of credit furni as well as 7 re-returning room bundles!
Featured: Angel Wings
Newest item: Grey Ice Cream Machine
New furni