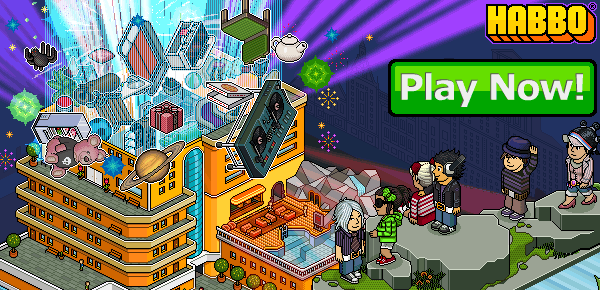 What is Habbo?
Habbo is a virtual world for teenagers to hang out and play games. Habbo also sells currency which it is called " Habbo credits" . What is this for you may ask? Well Sulake makes money from people to sell virtual credits to buy virtual furniture, pets, Habbo club and many more. Now to purchase this is very simple you can use your home phone, cell phone , credit card and you can also buy Habbo cards at some local stores which they will indicate where to buy them. It is very important that you ask permission from your parents first before buying credits as you don't want your parents being mad by seeing their big bill .

What can you do on Habbo?
You can have parties with your virtual friends, pretending you work as a cop or whatever you think and you can play the new games that Sulake made for us to play to earn scores and beat your friends on the scoreboard. You can also play hosted games that others created such as falling furni, don't touch the wall and many more. You can win prizes at the end of each game they host.

Is Habbo safe?
Yes and no. To be honest no website is safe. Habbo is virus free but you have to becareful as there are hacker's on Habbo. Hackers always tries to steal other peoples passwords and furniture. If you don't give your password you will be fine. If you see any weird people on habbo just ignore them. Never give them your personal info to anyone on Habbo even if he/ she are your best friend you don't know their real identity. You can hang out with them but giving them personal info isn't safe.

Important thing is have fun, be safe and let the party begin!
Powered by WPeMatico