There are a lot of commands on Habbo that you may not know about. For example, there is one that can turn your whole room upside down.
Click "read more" to read about them.

Let's start with the most obvious ones, but I've still seen people do it the long way so these might still be new to some people.
:pickall
Does what it says on the tin, providing you're at the owner of the room, or you've got your furni in another Habbo's room. If you say this command, all your furni in that room will be picked up. This does mean that you will lose the room you may have spent ages building.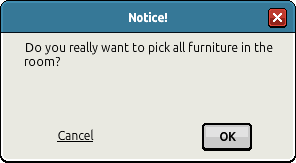 :news
This used to bring up a pop-up on the actual hotel with all the Habbo news. Now if you say this command it'll take you back to the home screen of Habbo to view all the news they have.
:sign (0 to 9)
If you say this on the hotel, it'll bring up a sign with that number. For example, if you say :sign 7, it'll bring up the number 7. Straightforward really.


:idle
As you may have guessed, this command makes you go to sleep in the room so you have the ZzZs coming out of your head.


o/
This is the easiest command in my eyes, this command makes you wave and you can say it time after time without the chat bubble popping up above your head, so it seems you're doing it by magic.


_b
This only works if you're HC, this command makes your Habbo do thumbs up, yes that's right, you can do a thumbs up on Habbo! Not many people know about this.


😀
This also only works if you're HC, this makes your Habbo giggle a little as if it's laughing.


:mutepets/bots
This really does what it says on the tin, if you say this in a room where the pets or bots are speaking, it will literally mute them. You won't get any 'confirmation' as it were that you've muted them, however.
:sit
This is self-explanatory, if you type this in your Habbo chat box, yes you guessed it, you will sit down.
Now let's move on to the commands people probably don't know exist.
: x
If you say this command whilst clicking on someone and press enter, it will say their username for you instead of you having to type it out. Make sure you have space in between though otherwise, it won't work.
:ejectall
If someone is in your group and has furni in your room that you don't want anymore, instead of picking them all up one by one, just type this command and it'll pick them all up. The best thing about this command is it doesn't pick up the actual room owner's furni.
:shutup/mute (username)
This command does what it says really. If you say this command and then their username, you will mute that Habbo for 2 minutes. Any longer and you'd have to mute them manually.
:kick (username)
Saying this command, with the Habbo's username, will kick that Habbo from the room. This only works if you have rights in that room.
:zoom (1 to 5)
I didn't know about this command till about 2 weeks ago when I was doing a maze. If you say this command and a number from 1 to 5, it will zoom your Habbo room in/out. To return to normal after zooming, just say :zoom 1.
:iddqd
This is the most pointless command in my eyes, this command literally turns the room you're in totally upside-down! Only the room turns though, not the actual tools for Habbo. To get back to normal, just click zoom.
:hidemouse
This command literally does what it says, it hides your mouse and the white square that comes up when you click on a part of the room. This probably isn't the best command if you're doing a maze etc., but if you're moving away from your computer, this command might help for keeping your Habbo safe. To get your mouse back, just type the command again.
:YYXXABXA
This is a really fun command, especially if you're a fan of Star Wars. If you say this command on the client, it gives you a lightsaber!
This is part 1, I will continue with part 2 very soon.
Make sure to comment and like this article!