Habbox Management – Biscuit Style
3
The Habbox management team are like one big (mostly) happy family. You may think we all just stick to managing our own departments and never really cross paths, but that couldn't be more wrong. We often find ourselves chit-chatting about the most random of stuff, and it becomes very easy to make some great friends (and enemies) along the way! Sitting bored at my desk this evening, I decided to play a fun game and think about what type of biscuit I would describe each of my fellow managers as. Continue reading to find out which lucky manager gets to be a party ring, and who ends up as a rusk!
lawrawrrr (General Manager) – Cookie
Sometimes deliciously chewy, other times can be a little hard. Finding the right balance of chocolate chips to biscuit ratio can be difficult, but when it's right it is delicious. Perfectly rounded, leaves you wanting more and more! Crumbles under pressure sometimes.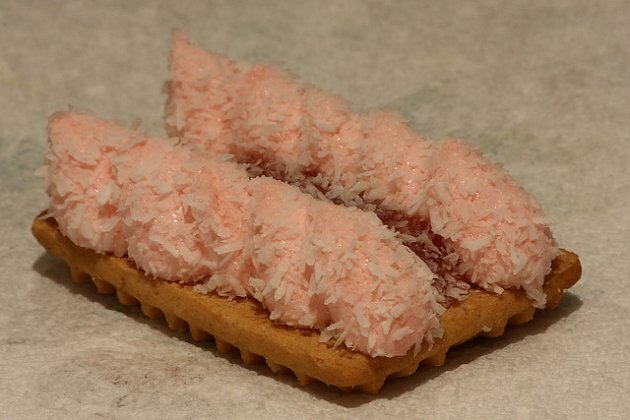 Absently (AGM Community) – Mikado
I Googled 'Irish Biscuit' and this weird pink slug like thing on a biscuit came up. Soft on top, but hard underneath. Sometimes the sweetness can be a bit overpowering and the most important part gets neglected. Not to be consumed in large doses. Very pretty looking and perfect for parties!
Expling (AGM Staff) – Jammie Dodger
Never enough of the good stuff (jam), and quite often too much biscuit. Has a heart, but keeps it well centred so others might not notice that it cares. Perfectly rounded, but people have an urge to pull the two sides apart.
FlyingJesus (Events Manager) – Ginger Crinkle Crunch
A classic! Been around longer than dinosaurs. Represented by its vast number of wrinkles. Its spicy ginger flavour makes it a hit with many. Great for dunking, and eating dry alike. Has the perfect crunch and isn't too soft. Totally perfect and this has not been edited.
Martin (Articles Manager) – Party Ring
These colourful fun biscuits are a hoot! Perfect for someone who likes to party now and again. Is very sweet on top, but has a thick layer of biscuit tucked away underneath too. The icing will crumble if you apply too much pressure.
Mrs_Plant (Graphics Manager) – Rusk
The ultimate treat for babies (and grown ups!) alike. Absolutely gorgeous when dipped in hot milk, and will melt in your mouth. Often a little big for the mouth and will leave your jaw aching due to its thickness compared to other biscuits.
xxMATTGxx (Co-Owner) – Hobnob
With its weird bumpy texture, this biscuit melts in your mouth, especially when dunked in some hot tea. Comes in a variety of types, including chocolate covered. This crunchy, knobbly treat will leave you wanting more. More complex than some might imagine and is packed with hidden goodness.
Despect (Habboxlive Manager) – Nice
One of the few biscuits which has to spell out its own name onto itself in case you forget what it's called. A nice firm biscuit, albeit lacking in depth. The sprinkling of sugar adds much needed sweetness. It is nice, as stated.
MikeyFusion (Assistant Habboxlive Manager) – Shortbread
Originating in Scotland, this classic treat is a firm favourite at Christmas. Comes in all different shapes, but the finger is often the most popular. Often very rich tasting. Sprinkled with sugar for extra sweetness and texture.
.:Q99:. (Assistant Helpdesk Manager) – Ritz Cracker
Very cheesy. These delightful little circles will leave you wanting more. Unlike the previous biscuits, these ones are quite salty. Well rounded with plenty of edge on them. Perfect if you are looking for an on the go snack.
Elegance (Competitions Manager) – Malted Milk
Trying to work out what the picture is meant to be on these is a competition in itself. According to Google, "Malted milk is a powdered gruel made from a mixture of malted barley, wheat flour, and evaporated whole milk." Despite being gruel, I like them and the texture is fun!
Chris (Site Manager) – Pink Wafer
A firm favourite! Luscious layers of wafer with that all important crème sandwiched in between. Hard to eat whole without taking the layers apart. Perhaps one of the more camp biscuits in our selection. A crisp bite, but its layers are extremely thin.
Empired (Forum Manager) – Tesco Value Bourbon Cream
Retailing at just 22 pence, these are great value biscuits which pack a punch. Can be a bit plain, and the chocolate is nothing special. The filling is the best part and worth the money alone. Often left until last in biscuit selection packs. Firm but will snap if you apply too much pressure, and prone to going soggy.
iSmexi (Rare Values Manager) – Garibaldi
A mysterious biscuit. Filled with juicy raisins. I have yet to try this biscuit however first impressions seem good! Nice and flat, but its thin appearance means a distinct lack of filling. Fruity and good for those looking after their health perhaps.
Lil-MeeDK (Helpdesk Manager) – Oreo
Everyone loves an Oreo! The contrast between the dark exterior and the bright white inside is striking. The layer of filling is generous, although the thickness of the outer biscuits can sometimes still overpower its sweetness. Not so great for dunking.
Matthew. (International Manager) – Maple Leaf Cookies
A popular Canadian favourite! Sometimes a little plain, with its only merit being the super cool design and detail that goes into the cookie. Lack of different flavours. Proud to be Canadian and not afraid to show it.
Plebings (Room Builders Manager) – Jaffa Cake Technically a cake not a biscuit, but we'll go with it. One of the more complex biscuits due to its variety of textures and tastes. A delicious layer of chocolate covers a tangy jelly inside, all sat upon a sponge.  Everyone picks off the chocolate and eats the tangy bit on its own! Rather fun, but the chocolate can melt and be messy!
Sho (Content Manager) – Aberffraw biscuits
Aberffraw biscuits are an ancient Welsh shortbread pressed with the shape of a scallop shell, and are said to be Britain's oldest biscuit. Extremely pretty and unusual. Its heritage is important. Comes in nice packaging too. A fun biscuit!
Tom (Technical Manager) – Florentine
The insides of these look like someone has just spewed up their breakfast cereal. Packed with nuts and fruit and covered with just the right amount of chocolate to not be too overpowering. A complex, fully packed biscuit with a woman's name.
GoldenMerc (Marketing Manager) – Rich tea
Extremely boring and plain unless you dunk it. Dunking often causes the biscuit to go soggy. Whilst originally designed for the upper classes, these have now become a family favourite for those on a budget too. Some may think they are pointless, but others will say that they serve a purpose as a dunking favourite.
‍
What biscuit would you describe yourself as? Let us know in the comments below!