Is your horse a drama queen?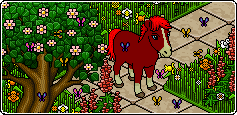 Well this competition is for you, what do I need to do?
Have a video what a horse would do ( have a big dump! ) and it can be anything you want, but cant be longer than 2 minutes but only you and 2 more habbo's the most.
Use HyperCam or Camstudio etc, to make your video.
Upload it to youtube, with the title "HABBO.COM HORSES" and in the description put your Habbo name/'s.
Now copy your youtube link, and send it to
[email protected] (subject line: A Horse's Life.)
rember to send your
habbo names
in and also the
room it was took in
.
Send it by Tuesday October 18th at 2pm BST.
You can win a special plutonium horse shoe badge and a Stable Furni pack!
Share your view by clicking 'Read More & Comment'.
Powered by WPeMatico