Las Habbox 6 – Hotel? Motel? Holiday Inn?
20
With the memories of the posh hotel fading almost as soon as they left the decadent front doors, the AGM team set about finding somewhere new to stay.
Laura wanted to splash out a little bit extra on one of the themed hotels, but was talked out of it quickly… it was a waste of money after all!
They were left picking from one of the old-glamourous hotels which was looking a bit worse for wear, a cramped room (2 beds and a camp bed between the three of them) or a kiiiinda dodgy-looking motel. The motel had a decent looking pool though with a bunch of water slides, which is what won them over in the end!
The next morning…
They didn't really remember getting back to the motel and getting into their moth-eaten beds. A few too many cocktails at the almost TOO-cheap bar across the road (plus, ladies 2for1 night, which never ends well) and they'd slumped in around 2am.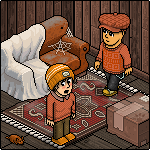 The hangovers were not pleasant. Not… omf there's a tiger in the room and you're missing a tooth unpleasant, but not nice nonetheless!
As they started to come to and make sense of their surroundings lots of things started to become apparent. The spiders in the corners. The damp climbing up the wall. The holey curtains betraying the brown-stained window… and talking of brown-stained things…. no I can't even bring myself to describe the 'bathroom'!
They knew one thing for sure.
They needed to escape.
To win yourself 1 point for your team, comment down below with the one essential item you'd pack for a Habbo holiday!