Are you a TV junkie? Netflix marathoner? Boy, do I have the article for you!
I was sitting around watching X-Men: Days Of Future Past when I had a sudden thought. It's September, or rather fall. That's when some of my favourite TV shows come back for another season! (haha, get it?) I wanted to tell you all about some stellar shows that you should definitely put on your 'to watch' list. Grab your notes and read more!
First on the list? An action filled, humorous little show called Lucifer. I know what you're thinking-and no, it's not like all those 60's horror movies you've seen so don't worry. The series focuses on Lucifer Morningstar, who is bored and unhappy as the Lord of Hell. He resigns his throne and abandons his kingdom for the beauty of Los Angeles, where he gets his kicks helping the LAPD punish criminals.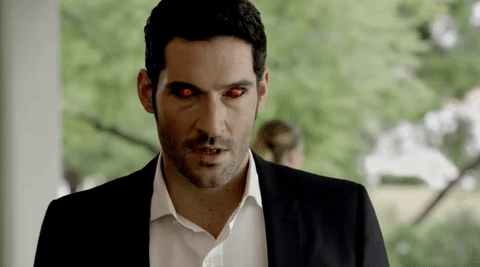 Lucifer runs a piano bar in Los Angeles called "Lux", with the assistance of his demonic ally Mazikeen. After a minor celebrity whom Lucifer once helped achieve fame is murdered outside his club, Lucifer becomes involved with the LAPD and takes it upon himself to assist Detective Chloe Decker in finding the one responsible so that he can "punish them".
He's played by the charming as ever Tom Ellis, and he brings a lot of humour and charm to each episode, definitely check it out. It's coming back for season 2!
 Another Show that's coming back for round 3 is 'Gotham', and it's great! I'm not a big DC or Batman fan, but this show kept me interested for the full two seasons while looking forward to the third.
It focuses on a young James Gordon, who is paired with veteran detective Harvey Bullock to solve one of Gotham City's highest-profile cases: the murders of Thomas and Martha Wayne. Eventually, Gordon is forced to form an unlikely friendship with Bruce, one that will help shape his future in becoming Batman.
Not a fan of dark, action dramas? No problem. Maybe you should check out Brooklyn Nine Nine. It's on Netflix just like Gotham!

It's a funny, lighthearted comedy that will definitely get a few laughs out of you.
Set in the fictional 99th Precinct of the NYPD in Brooklyn, Brooklyn Nine-Nine follows a team of detectives headed by newly appointed Captain Ray Holt, each with their own unique stories and personalities. They solve crimes as any police-centred show would, but with a humorous undertone.
There's a ton of other shows I'd like to recommend, but I wanna make this article short and sweet. Hopefully I've given you something new to watch on your downtime or while you procrastinate against whatever task you need to do.
Have fun!