Hey, my beautiful Earth people! First of all, I'm lucpix (OK, it's only my war codename, I'm actually Lucas) and I'm glad to start off this crazy writing journey talking a little about the possibly unknown sides of the gaming world, since the beginning of all! Sit back and enjoy the ride, my friend:
I bet that you're going to agree with me: It's always COOL when they make remakes of the old games, even if they don't make it properly, huh? Well. Fortunately, there's these insistent and lovely fans that make them by themselves and sometimes they can get even better than the original game (We are fans and we know what we want to play, after all!).
Today, I'll proudly raise a flag for RetroSpec! It's an old and indie game company that put together a lot of great programmers and artists to innovate and recreate some of the few known Sinclair's ZX Spectrum goodies from the 80's. Do you know the best part of it?!: they are truly a must-play! And the best part: They are slow-PC-friendly! And the best part!! […]
I chose 3 of my favourite RetroSpec games. It really deserves a little space on your gaming-archaeology chest. 😉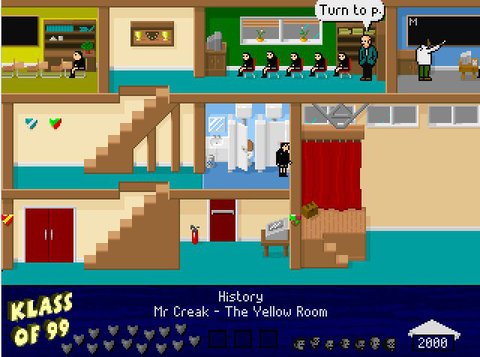 KLASS OF 99  (…1999) is a great remake of SKOOL DAZE (1984) and I often consider it as the "Bully's" father, you'll understand why. See, your name is Eric and your school grades are too low and you must to find a way to solve it. Actually, a fast way to solve it! Why not invading the School's PC and changing your database? Awesome idea!
This game has the same graphics since Skool Daze, but now it's 100% colourful, instead of a pure-yellow school. You have an entire week to shoot your teachers with stones without being noticed, collect all the school's flags and have fun punching your classmates and writing random things at the blackboard. It's not a easy job since everybody's looking at you with bad eyes and a little action as jumping may be considered a crime!
The simplicity on it's soundtrack, graphics and gameplay is effective here. But it's not a great game if you're an impatient player, cause you'll have to make several breaks to go to the classrooms and listen to repetitive ask-answer conversations between the teachers and Einstein, the school's nerd.
With this virtuoso pixel art as Habbo and Dogz, HEAD OVER HEELS (2003, based on the original 1987 game) comes with a cool concept for platform games: In the beginning, the puppies Head and Heels are separated from each other. They are like pizza and ketchup: Head can jump higher, but he's too slow!; Heel's jumps are weak but she can run quickly! To (literally) put themselves together and start the real adventure, you must to face several enemies and creative, but actually hard puzzles, playing with one character at a time, whenever you want to do it. It all works smoothly and clearly, there's a certain beauty behind all these precise movements and gravity that will make you player until you die! I mean, if you really love a tough challenge. Recommended, baby.
It seems more like an arcade game which you would find at the App Store, cos the main objective of HIGHWAY PURSUIT (2003, possibly inspired by the SKY HUNTER for Arcade, 1983) is to break two records: The distance and the usual score record. You're driving a car that can shoot a powerful light and drop lots of gas/oil into the innocent cars (not recommended!) and your true enemies (you'll know who they are because they will attempt to push you into the trees, in other words, kill you!). Yes, it's a simple idea with a practical concept. But why is it so addicting? Because it's not exactly a linear trip: You'll face some of the coolest weather changes for an old game (Snow! Fog!) during your adventure and they may affect the way you handle your beloved car. Oh, and its exciting sound effects works very well to compensate the lack of detailed graphics, trust me!
 Okay Earth people, here ends my first article, an appetizer to know and understand all of this crazy universe of these kinds of games. We still have a lot to find out, and if you are an old games aficionado, you're always welcome to follow us on this trip and send a recommendation by leaving a comment below. Su-su!