Top 10 Studio Ghibli animated movies
3
Studio Ghibli is a Japanese animated movie studio who is very known for their unique animation style and amazing stories who drags everyone in. If you're interested in reading about some of their stories, then read more!
I grew up on their movies and can proudly say these are my favourite animated movies of all time with Disney as a close runner up, therefore I will share with you my top 10 favourite Studio Ghibli animated movies with as few spoilers as possible as I encourage everyone who has not seen these movies to check them out.
10: Tales from Earthsea (Original title Gedo Senki)
This movie is directed by Gorō Miyazaki, the son of the famous Ghibli director Hayao Miyazaki.
It follows Prince Arren and Archmage Sparrowhawk as they journey to find a dragon in hope of making peace and stop the war between the 2 races.
The movie is really beautifully animated however the reason it is #10 on the list is due to the script which in my opinion does not add up to the Studio Ghibli standard.
I recommend you watch the movie if you are into fantasy however I strongly recommend you also check out the book series. It is based on that in my opinion is far superior  to the movie.
9: Kiki's Delivery Service (Original title Majo no Takkyūbin)
What does a witch do when she turn 13 and have to leave the nest with no money at all?
Opens a delivery service in the neighbour town Ofcause. Kiki's Delivery Service is a sweet movie for all ages about a young witch adventure in the real world without her parents help.
This was one of my first Studio Ghibli movies I have ever seen and I loved it from the beginning to the end.
I recommend this movie if you have younger siblings or cousins to watch it with as they would love it and it has a good message.
8: Porco Rosso (Original title: Kurenai no Buta)
Porco Rosso tells the story of a pig veteran war pilot and his young female mechanic as they go on an adventure to beat the pirates hired by the government.
This movie is not a traditional Ghibli film as it follows a political message, although if you are into satire you will love this movie as much as I do.
I recommend this movie if you are old enough to understand and love political satire.
7: Castle in the sky (Original title: Tenkū no Shiro Rapyuta)
Sheeta and Kazu goes on an adventure to find Laputa, a island that is known to be high in the sky, when they find out Sheeta comes from that island.
But they are not the only ones who have a desire to find the Island and the others will do whatever it takes to stop them.
Castle in the sky is an amazing story of friendship and believing your dream even though everyone say it dosnt exist, it is a movie filled with adventure and action from the beginning to the end and will have you glued to the screen within the first couple of minutes.
I recommend this movie if you are into adventure and have a wild imagination where everything is possible.
6: Ponyo (Original title: Gake no Ue no Ponyo)
Ponyo is a modern adaptation of The Little Mermaid.
Brunhilde who is a goldfish that have a wish to see the shore sneaks away and meets Sōsuke: a little boy without many friends.
The two falls in love instantly and Sōsuke names Brunhilde Ponyo but soon understands he has to let her back into the ocean.
When Brunhilde goes back she forces her father the magical wizard Fujimoto to turn her into a human to see her friend again.
Ponyo shows the strength of friendship but also touches more serious topics like parental separation and loneliness.
I recommend this movie if you are looking for a sweet family film that will touch your inner child's soul.
5: My Neighbor Totoro. (Original title: Tonari no Totoro)
My Neighbor Totoro is about Satsuki and Mei who are moving to a small countryside town with their dad. They soon find out their mother is very ill and it really troubles them, fortunately Mei finds Totoro, a big fluffy creature who is nice and plays with the girls to keep their mood up.
My Neighbor Totoro is probably the cutest movie I have seen in my life. It is not a coincidence that the big bunny-like creature became the mascot of the studio, and it works with a lot of subjects but in a way so children learn how to cope with these serious subjects.
I personally own a big plushy of Totoro but shh don't tell anyone.
I would specially recommend this movie if you have younger siblings or is just a child by heart.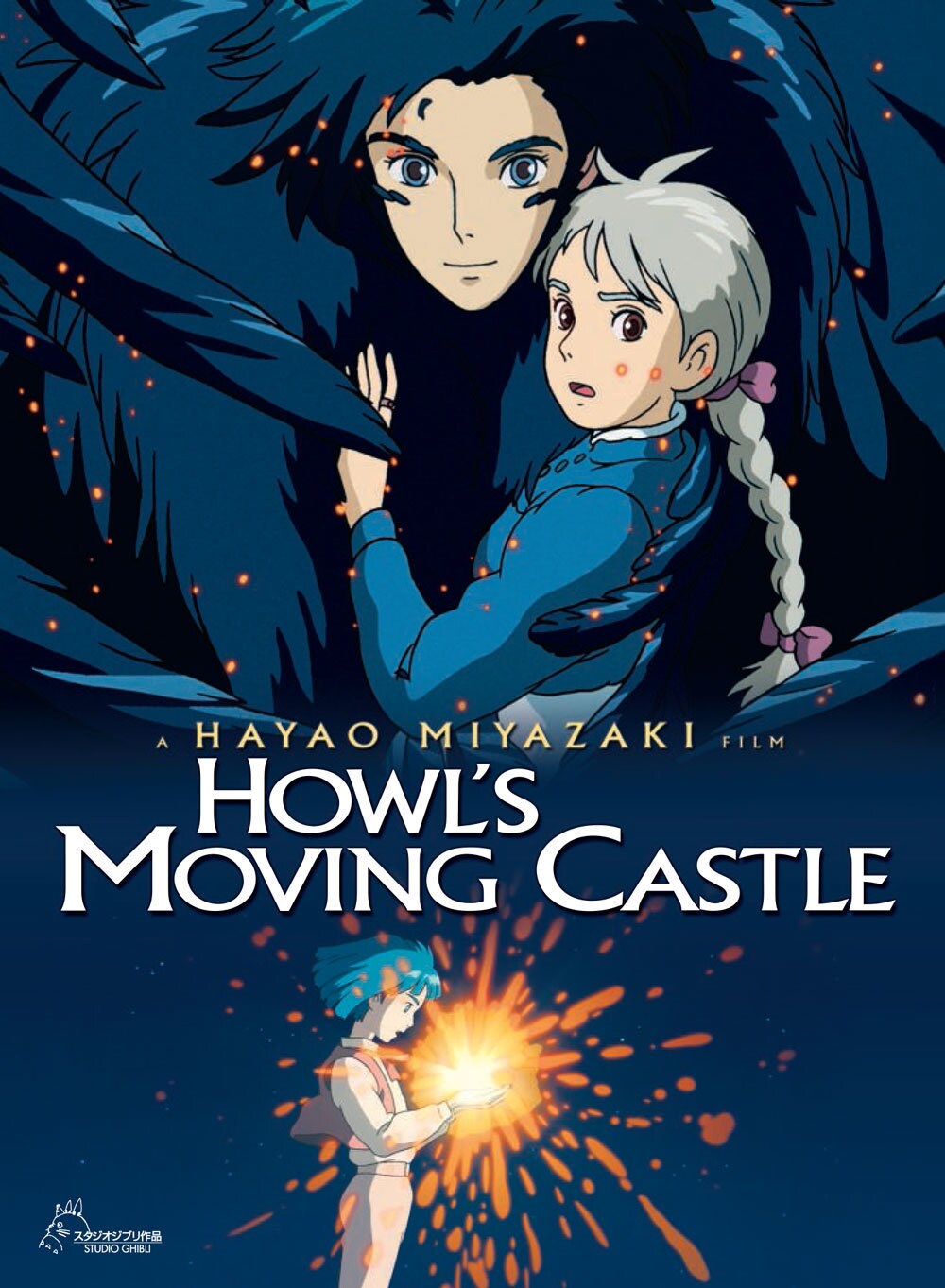 4: Howl's Moving Castle (Original title: Hauru no Ugoku Shiro)
Howl's Moving Castle is the story of the young and beautiful Sophie who gets turned into a old woman because the Witch of the Waste cast a curse on her. The curse can only be lifted by a kiss of true love.
Sophie then meets "Turnip Head", a living scarecrow that leads her to the famous wizard Howl's castle that moves from place to place with the power of the fire demon Calcifer, she decides to stay there as a cleaning lady with Calcifer, Howl and his apprentice Markl.
Howl's Moving Castle is a amazing story based on the book of the same name; it is filled with magic, love and many other subjects and teaches a valuable lesson about inner beauty.
I would recommend this movie if you are into fantasy or just well written stories.
3: Princess Mononoke (Original title: Mononoke Hime)
A small village is attacked by a demonic boar, a young man called Ashitaka manages to kill it before it reaches the village but he is stricken with a big curse on his arm that keeps growing bigger.
Ashitaka journeys Nago in search of a cure but gets caught in the middle of the town peoples war with the forest creatures, here he finds Mononoke princess of the wolves and begins to understand that he is fighting for the wrong side.
Princess Mononoke is extremely dragging from the first minute of the movie, and it portrays man's war against nature in a way that only Ghibli can.
This movie has some very visual scenes so it is not for younger children.
I can recommend this to anyone who is looking a beautiful animated illustration of how precious nature is.
2: Grave of the fireflies. (Original Title: Hotaru no Haka)
Seita is a young who is let to take care of his little sister Satsuke as their dad is fighting in the war and their mother is too weak. The young boy uses all his power to keep his little sister's mood up, but it is not easy to survive 2 children by yourselves.
This movie is the most depressing movie I have seen in my life; it is the ONLY movie to ever make me cry seeing the children go through struggle after struggle but that is what makes this movie so great, its main theme is family and how important it is to take care of the weaker.
This movie WILL MAKE YOU CRY so take that in mind before you watch it and do not watch it with younger children.
I recommend this movie if you are into emotional war drama with an amazing story.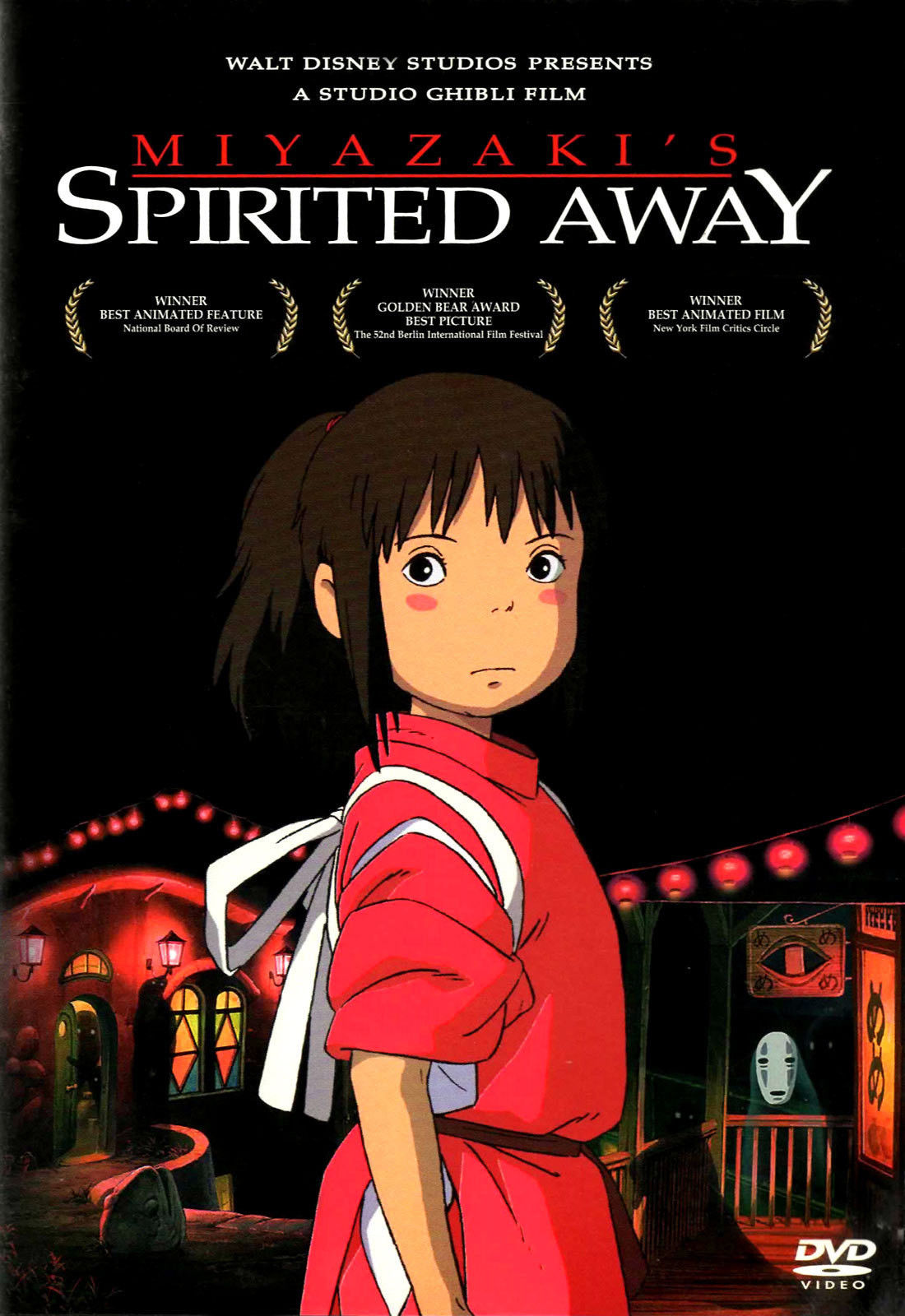 1: Spirited away (Original title: Sen to Chihiro no Kamikakushi)
Chihiro is forced to work for the evil witch Yubaba at her bathhouse for spirits to rescue her parents who has been turned into pigs and get her name back that Yubaba has stolen.
With her new friend Haku she goes on a journey to get her name back and rescue her parents.
I can not descripe how amazing this movie is, if you have not seen it you need to right now.
This is how you make a animated movie, the animation, the story, the characters everything about this movie makes it the best animated movie of all time in my opinion.
It has been nominated in 35 movie awards 30 which it has won and really shows the best of studio Ghibli and Walt Disney.
I would recommend this if you are into Alice in wonderland like stories but really I think everyone needs to see this movie at least once