UK MPs claim 174 majority vote to begin air-strikes on Syria
1
MPs of the UK have overwhelmingly backed the plans for the UK to begin air strikes against the so-called Islamic State in Syria, with 397 supporting the motion and 223 against.
Prime Minister David Cameron said that the United Kingdom had "taken the right decision to keep the country safe", while opponents said that the move was a mistake. Air strikes are said to begin within hours of the vote passing.
Four Tornado jets have already flown out of RAF bases in various nations surrounding Syria, with unconfirmed destinations. Additionally, a further four fighter jets are on standby at other RAF ground bases, which are in use to launch bombing missions elsewhere.
BBC political correspondent, Mr Robin Brant, said that while the Ministry of Defence was not in a state to confirm where the jets were heading, it "would not be surprising" if they were headed to Syria.
Click 'Read More' for a more in-depth look at the 10-hour long debate.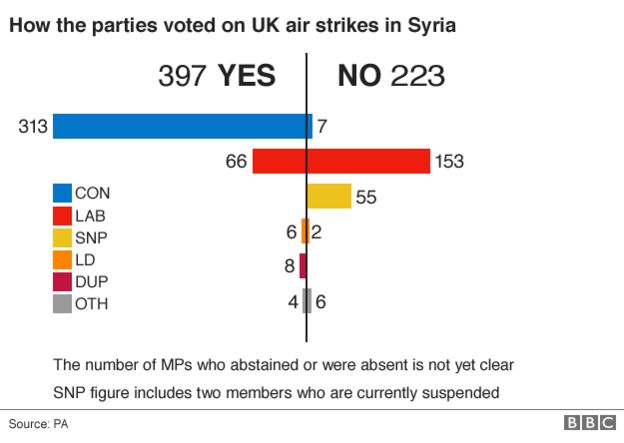 The shadow foreign secretary Hilary Benn was, quite literally, applauded by MPs for an extended period of time across the house, particularly over on the Conservative benches, when he urged his own side to "confront the evil" posed by terrorist group IS, who he said "held our democracy in contempt". Benn further extended to say the UK had a "moral and practical duty" to confront IS, telling Commons there were "rarely perfect circumstances in which to deploy military forces" but the "threat is now" and the UK must rise up to the challenge.
PM David Cameron called upon MPs within Commons to "answer the call from our allies and take action against the 'women-raping, Muslin-murdering, medieval monsters" of IS, who he further warned were "plotting to kill us to radicalise our children right now". Following the end of the lengthy debate, a legitimate petition has flared up declaring a 'Vote of no confidence for David Cameron', with over 190,000 signatures in a short amount of time. While I'm sure this e-petition will have no real significance, it is safe to say that this debate has sparked some conflicts of opinion on the current state of the UK government, let alone the entire nation.
While controversy is surrounding the final vote quickly, the decision has been made.