Featured Wiki article
Habbox Summer Spectacular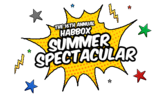 We're super excited to announce that this year's Habbox Summer Spectacular will be returning from 12-21 August! With thousands of credits to be won! This year's theme... SUPERHEROES!
Team Applications are now open click, here to join a team!

Current Habbo Campaign
Fantasy Village
On Habbo this month it's fantasy overload with the Fantasy Village campaign. Make sure to get your hands on the new crackables, the is also a new furniture line, 4 new rares, 2 new clothing items a newcrafting system as well as the new Fire-Breathing Dragon!.
Featured: Rainbow Pillow
Newest item: Villainous Horns
New furni